TIS Italia & TIIS are happy to announce a wonderful event in Parma:
International Spiritual Retreat
& Instructors Training Workshops

21-22-23 October 2022
TOGETHER INTO THE FUTURE!
The Inner Sciences' Multicultural Teachings will rapidly improve one's
understanding of a Simple yet extremely powerful Process – that will allow you
to reach an Inner State of Peace, Well-Being and Happiness in just a few
steps.
Through in-depth Practice of these Priceless Teachings and of the various
Meditations – the Practitioner is showered with Light, Calmness and Inner
Stillness.
Those who set out on this Compassionate Path of Universal Knowledge and
Wisdom – can experience a huge downpour of Spiritual Energy, by regularly
following a Complete System of Spiritual Practices (Sadhana) that consciously
leads toward the Development of the Soul
Spiritual Development is facilitated by the integration of Multiple
Interconnections between different Philosophies and Religions – into a deeper
understanding, leading the Student to respectfully note the multiple
Similitudes between different Metaphysical and Religious Traditions.
The Inner Sciences' Students regularly replenish their Vitality, and
inquisitively wonder about the Mystery of Life.
The Path of Arhatship* is thus a complete system of advanced Spiritual
Practices that anyone can follow in order to rapidly and safely accelerate one'
s Spiritual Evolution and Union with one's Divine Nature.
Through regular Practice of Exercises, Meditations and other Practices that
allow one to actually experience Spirituality, Practitioners can Access and
Awaken their Inner Divine Power, thus integrating the different areas of
everyday Life and improve their quality.
"*Arhat means "Perfected Being" or "Highly Realized Being". This advanced
yoga system synthesizes and scientifically integrates the main branches of Yoga
(Raja yoga, Karma yoga, Laya/Kundalini yoga, Jnana yoga, Bhakti yoga, Mantra
yoga and a simplified Hatha yoga)."
A Spiritual Retreat is a Precious Occasion of Inner Growth; for the Students
on The Path to Arhatship (TPA) it will be a time of Intense Practice with the
assistance of Senior Instructors and practitioners.
This year the Retreat will also be open to beginning TPA Students, who will
get to experience a Deep Immersion into Spiritual Energy during these days of
Meditation and Study.
Prerequisites:
–    The program is open to those who have completed Pranic Energy Healing
Level 1 and/or Technology of Feeling Subtle Energy
 About the Program:
The program will feature Guided Meditations, alternating in-depth discussion
of the Teachings and sharing the Practice of TPA.
Benefits of the Program:
You'll get to practice together with both Italian and International
Students, under the supervision of Senior Instructors who will help you
understand how to integrate your Spiritual Practice (Sadhana) into your
everyday life and help you correct the postural flaws you may have acquired
over the years – thus gaining the maximum benefit from your Practice.
You'll learn about:
• The next Steps of your Spiritual Path;
• How to fit your Sadhana into your everyday Life
• Purification and Nutrition in your Spiritual Practice
• Pranayama
• Recommended Books that can enhance your Spiritual Growth
• Special Classes for Advanced Practitioners
• You can ask for dedicated supervision during the Practice of Meditations
 When:
Registration: Friday, October 21th, from 8:30 AM
Retreat begins at 09:30 AM
Retreat ends with Lunch on Sunday, October 23th
Sunday afternoon: Practice of the Advanced TPA Levels & ITW.
During all the weekend you can also begin or complete your Instructor's
Training (ITW).
If you'd like to collaborate with us, please get in touch.
Where:
Hotel Parma & Congressi
Useful info:
The Retreat will be fully held in both English and Italian.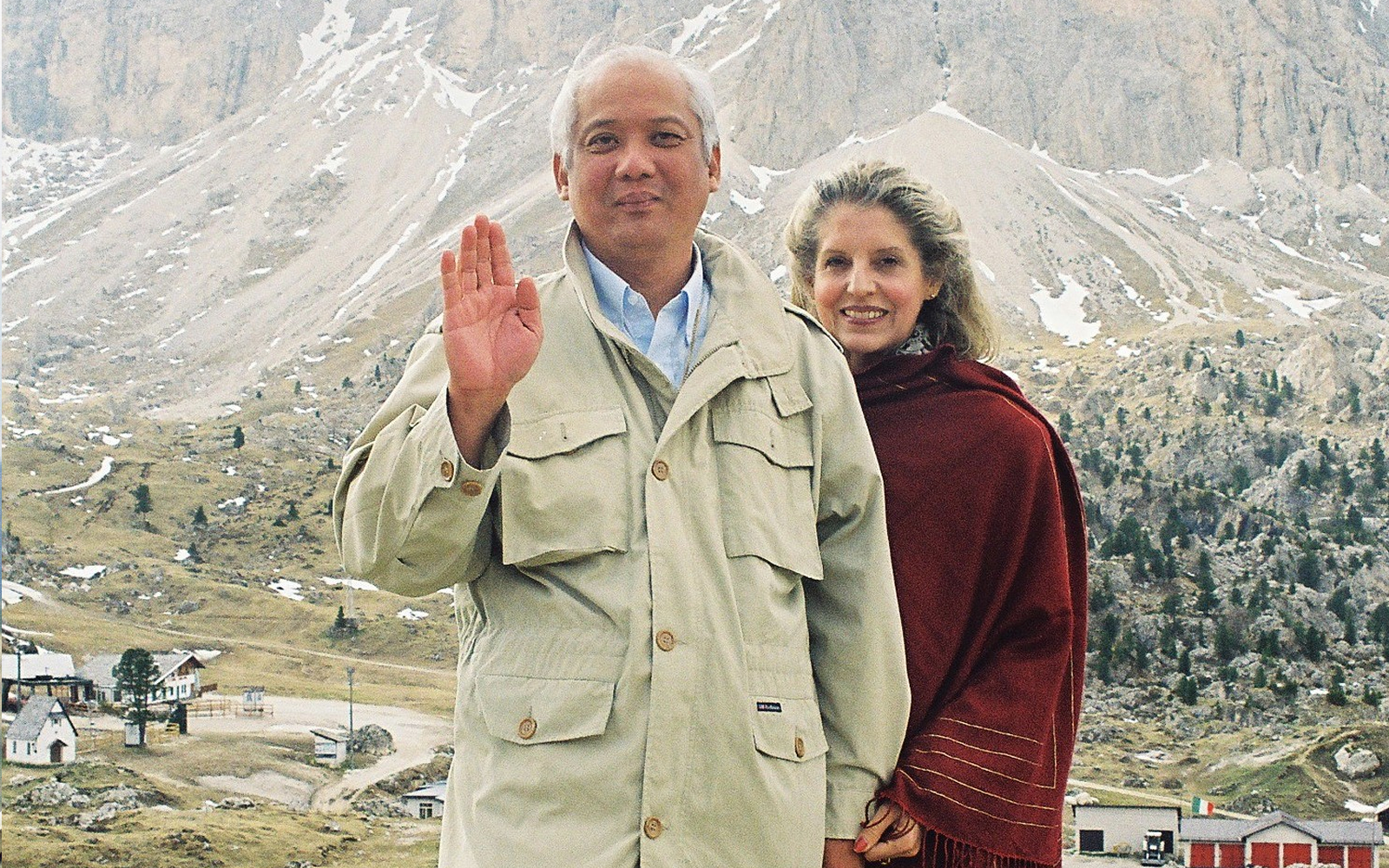 L'amato Maestro Maha Atma Choa Kok Sui e la sua amata compagna spirituale Charlotte Anderson
ASK FOR MORE INFORMATIONS